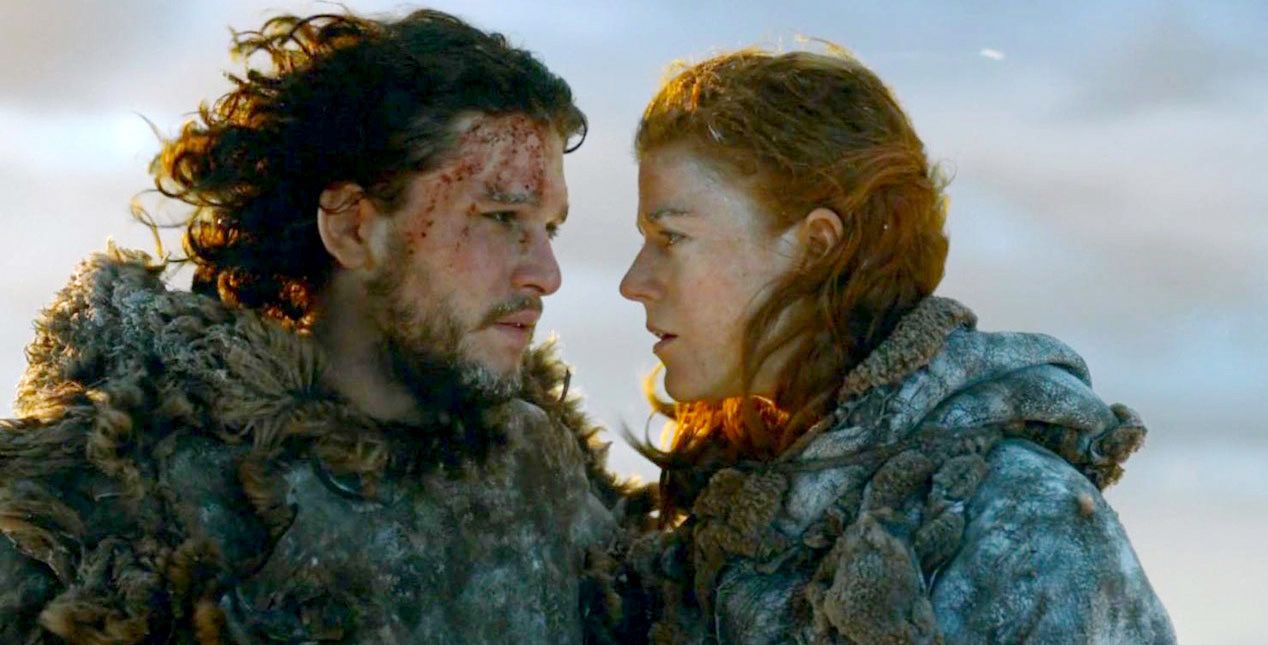 Best Sex Scenes from Game of Thrones
As the single greatest series produced by HBO, XXX Game of Thrones has some incredible action and the battle scenes are amazing. The stories are incredible, and the palace intrigue is unmatched. However, there is one aspect of Game of Thrones that also gets tons of attention, and those are the sex scenes. In terms of great scenes, these scenes go all the way with some really wild and crazy action. They are unlike other sex scenes on TV. The good news is we have compiled a list of the best scenes, so you can search them out and judge for yourself how great they are.
Wedding Night of Daenerys and Khal Drogo (Season 1, Episode 1)
The series got right to the point with the sex scenes that don't sit right and when Khal Drogo raped Dany on their wedding night, this was a side of the Khaleesi that we didn't see much of. The Queen of the Dragons is terrified and trying to cover up while Drogo's viciousness is on full display. The good news is Dany always overcame the worst, and it doesn't start lower than this point.
Jaime and Cersei at Winterfell (Season 1, Episode 1)
Not to be outdone in the very first episode, there is even more unsettling sex when Jaime and Cersei go at it within the tower at Winterfell. Bran Stark find them, and this is just weird. These twins are doing things that no siblings should be doing. And, guess what – plot twist arriing – Joffrey, Myrcella, and Tommen are probably not the progency of King Robert, but instead are sired by Jaime.
Tyrion and Ros (Season 1, Episode 1)
I mean, when you are new to town it makes sense that the first place to stop is the local brothel, and Tyrion wants to get a taste of things so he employs Ros for this purpose. That said, Jaime is certainly having his fun as he interrupts the action to make sure that his brother will be attending the family feast. Good thing Tyrion worked up an appetite.
Dany and Drogo, A Redux (Season 1, Episode 2)
I mean, the second time we see the couple going at it, it still looks like there is no love there and Drogo is just imposing his will on poor Dany. There is nothing like foreshadowing though, and with Dany staring at the dragon eggs while being violated by Drogo, it appears that the marriage has settled into a disturbing routine.
Dany and Drogo, The Trilogy (Season 1, Episode 2)
So, what's a girl to do when the relationship she has with her husband starts with straight up rape? Learn the timeless art of seduction from her handmaid. Well, Dany decides that she is going to have sex with the Khal with each facing each other. What was once a relationship built entirely out of a power dynamic starts the shift to being one based out of love between the two of them.
Viserys and Doreah (Season 1, Episode 4)
Dany must have a thing for creeps because her brother Viserys is a weird dude. Imagine giving someone a history lesson regarding the Westeros dragons and at the same time giving Doreah one hell of a good time in the bathtub. It is at this point that Game of Thrones sex seems completely unrealistic, but hey, as a plot device, there are worse ones.
Theon and Ros (Season 1, Episode 5)
When it comes to glory days, Theon certainly had them and the many notches on his bedpost stand as a testimony to the idea that quantity of sexual experiences matter more than quality. As for quality though, Theon's time with Ros is frequent, and her ability is something that genuinely seems to excite him, so much so that he appears to genuinely be said to be leaving her.
Littlefinger, Ros, and Another Prostitute (Season 1, Episode 7)
A guy named Littlefinger (also known as Lord Baelish) is most likely going to be a creepy dude, and this guy does not disappoint with living up to the stereotype. While Ros and another prostitute go at it, Littlefinger is making sure that their sex is pleasing to him. He is a total voyeur and only gets weirder when he tells them he's saving himself for a woman with "impeccable bloodlines", whatever that means.
Theon and the Ship Captain's Daughter (Season 2, Episode 2)
Our boy Theon is back! While sailing home from the Iron Islands, the guy makes sure to find someone to have sex with, and who better than the ship captain's daughter. Theon is such a smooth operator though, he shows her a good time and when she seeks for him to take her away, he demurs while making sure that he keeps the good times going. Talk about having your cake and eating it too.
Stannis and Melisandre (Season 2, Episode 2)
Stannis at least seems like he is going to defend his wife's honor when Melisandre calls her weak and disgusting. Then they knock boots on the painted table like three seconds later. What makes this worse is when you think about things down the line and how Melisandre has that totally creepy shadow baby. I mean, not much good came from this.
Joffrey, Ros, and Daisy (Season 2, Episode 4)
The foreshadowing that goes on in Game of Thrones is something else, and when Joffrey points the crossbow at Ros, this sets up what will happen in the next season. Joffrey is a sadist though, and with Tyrion's present of the two prostitutes, he has Ros violently beat Daisy with the belt. The guy is definitely an odd ball, and this scene certainly stands out for those reasons.
Robb and Talisa (Season 2, Episode 8)
There are few things more satisfying that building sexual tension that eventually gets released, and Robb and Talisa are a great example of that. However, all good things eventually fade, and this was the beginning of the end for both of them. Robb breaks of his engagement, and that leads to the Red Wedding. But they, they'll always have that one time.
Jon and Ygritte (Season 3, Episode 5)
Many times sex is a means to an end in Game of Thrones, except probably in the case of Jon and Ygritte. These two were a great case of forbidden love, and what is more romantic than a cave and a hot springs? The highlight of the scene is when Ygritte says, "You know nothing, Jon Snow" and yet much to her delight, Jon knows a thing or two.
Loras and Olyvar (Season 3, Episode 5)
The great thing about Game of Thrones is that sex is not just heterosexual. Loras and Olyvar are a great example of this, especially considering that Olyvar was able to figure out that Loras was not exactly satisfied by Sansa. However, Olyvar is not the most considerate of lovers, and when he testifies to the High Priest, Loras finds himself in a much more physical type of prison.
Theon, Myranda, and Violet (Season 3, Episode 7)
The playboy Theon is back though he is being held hostage by Ramsay. Not the best of circumstances for a menage-a-trois. Theon is not into it at first, but hey, a naked Myranda will certainly change his mind and he's all about what he's doing. Unfortunately, and this is an understatement, Ramsay was a buzzkill.
Gendry and Melisandre (Season 3, Episode 8)
Be careful what you wish for – Gendry loves the idea of a hot older lady like Melsandre but she has other things in mind. Specifically she pins him down, ties him up and then the magic king's blood that flows through his veins is removed with leeches. Yikes.
Jaime and Cersei with Joffrey… in a sense (Season 4, Episode 3)
We covered earlier how Jaime and Cersei are really gross, but give the Game of Thrones writers credit – they found a way to make it utterly awful. And really, if you can think of something more awful than Jaime raping Cersei as they are right next to their dead son's body, I'm all ears. Jaime even says that he doesn't care how none of this is right.
Oberyn, Ellaria, Olyvar, and Two Unnamed Prostitutes (Season 4, Episode 3)
One of the great rules of life is that if some is good, more is better. So, hey, why not a five-some? Things are going along really well, and all five seem to be enjoying themselves. Life is good, and then the least sexy character on the show, Tywin Lannister, interrupts. Blech.
Ramsay and Myranda (Season 4, Episode 6)
So here's the thing, when two people who have, how shall we say this, "unique" sexual appetites come together, things get really crazy really quick. Ramsay and Myranda are these two people. They bond over watching girls being mauled by dogs so you can bet that the sex is going to be really violent. However, unlike other Game of Thrones trysts, at least this one is consensual.
Ramsay and Myranda Do It Again (Season 5, Episode 5)
So, look, Ramsay and Myranda are clearly made for each other, but Myranda is jealous that Ramsay is hanging out with his bride to be and prisoner Sansa. So, look, when you're at Winterfell and you need to get your man's attention, what is better than some upright sex where you are standing right by the window? This seems healthy.
Sam and Gilly (Season 5, Episode 7)
One thing about Game of Thrones is that the sex is not usually tame, but Sam and Gilly are pretty cute together. Sam is a bit of a card, so his astonished face and the utterances of "Oh my" make the scene that much more light than most sex. Sam is not a stud – unlike Theon – but he has a good quality to him, so it is good to see him having a time with a cool girl like Gilly.
Dany and Daario (Season 5, Episode 7)
Dany is back but Drogo isn't, and her first hookup after his departure is that stud Daario Naharis. So, here's the thing, we don't actually see the sex the two of them have, but we see a new Dany. She has become assertive and powerful. Dare I say, her sexiness is on full display when she commands Daario to get naked for her.
Sansa and Ramsay (Season 5, Episode 6)
So, look, Ramsay is not exactly a great guy, and it only makes sense that his wedding night with Sansa is pretty awful. At the time, this seems like just another kick in the teeth for Sansa, but when watching the show all the way through, it feels really good for her when she takes back Winterfell and gets Ramsay's dogs to take him out.
Missandei and Grey Worm (Season 7, Episode 2)
So Grey Worm was castrated, but the good news is he does not seem to be impaired in the world of oral sex, and that is good news for Missandei. The tension had been building between these two and it was a relief when they finally consummated their relationship. You feel for Grey Worm when he gets undressed, but it worked out for him.
Jaime and Cersei Do It Again (Season 7, Episode 3)
So Cersei is apparently pretty done with being secretive about her time with Jaime. She just pulls down his pants and gets on her knees. Finally deciding that she's done caring what others think, she addresses her staff with the bedroom door open and Jaime's naked self still very clearly in the bed.
Dany and Jon (Season 7, Episode 7)
Look, every one of us was waiting for these two to get it on. However, the incestuous relationship is also gross. Poor Jon, the guy has no idea that he is having sex with his aunt. So, while this is a hot scene, it is also a gross scene. Thanks, Bran.
Arya and Gendry (Season 8, Episode 2)
Here's the thing, Arya is someone that we all see as younger than she actually is – the actress is actually 22 in the scene – but it's the night before the end of the world, and Arya is curious about sex. This seems like a good enough time to figure that out.